Child care workers are in high demand and job fairs are planned for libraries in four Lambton County communities in early October to help providers recruit staff.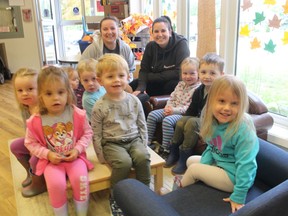 Article content
Childcare workers are in such high demand that job fairs are planned for libraries in four Lambton County communities in early October to help providers recruit staff.
Article content
These events follow a job fair held in May at Point Edward to attract more workers to childcare and fill local vacancies.
"I don't think it's an issue that is just going to quickly resolve, like many other workforce issues," said Claire Giles of the North Lambton Childcare Centre in Forest. "We're not alone, but we're finding it a struggle."
One Sarnia childcare centre was recently forced to temporarily close its doors because of a lack of staff.
Demand for qualified childcare workers is only expected to grow with the rollout in Ontario of additional spaces under the Canada-wide early learning and child care agreement.
The upcoming job fairs are planned for the Forest Library on Oct. 3, the Watford Library on Oct. 5, the Petrolia Library on Oct. 6 and the Courtright Library on Oct. 11. All four job fairs run from 10 a.m. to 2 p.m.
Article content
Rural centres and home-based childcare providers will attend to take applications and discuss career opportunities.
While Lambton County oversees childcare locally, individual childcare centres and providers hire their own workers.
The WorkPlace, an agency connecting jobseekers and employers, will also be at the job fairs to provide employment support and information about free training opportunities.
Licensed childcare providers across Lambton are currently seeking full= and part-time staff, including qualified early childhood educators, assistants and support staff.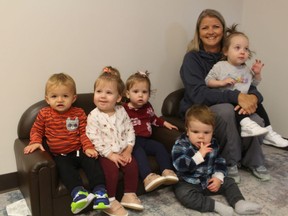 Matt Joosse, project manager for Lambton County's early years workforce development strategy, said it's surveying 19 childcare providers that operate 59 sites cross Lambton. The 10 providers that have responded so far said they have 95 vacant full-time, part-time and casual positions.
Article content
The county has also said there are currently about 700 infants, 800 toddlers and 1,800 preschoolers waiting for childcare spaces in Lambton.
The upcoming job fairs are aimed at attracting workers in communities outside of the Sarnia area, where filling vacancies can be even more of a challenge, Giles said.
Joosse said the county's strategy includes "enhancing, supporting, sustaining, attracting and growing the sector."
Along with helping providers recruit workers, the strategy is working to help retain existing workers with mentorship programs and professional development, he said.
He said information about local efforts can be found online at www.facebook.com/LambtonCountyChildrensServices.
Article content
"The picture is sort of the same across the whole province," Joosse said. "There is a workforce shortage and the job market right now is very competitive.
"Right now in our sector, it's a little more critical because we're expanding childcare spaces so we need these qualified staff."
Licensed early childhood educators have completed a two-year college program, but there is funding available for current workers in childcare wishing to upgrade their qualifications and become licensed, Joosse said.
One of the strategy's aims is encouraging more people to consider careers in childcare.
"This is a rewarding field that may not receive the recognition that it should," Giles said. "Without childcare, we know that folks cannot work."
Article content
Investments in high-quality childcare also pay off over time because of the benefits it provides to children receiving the care at a critical time in their development, Giles said.
"We know that there are so many positives and important aspects of childcare, yet as a society we don't value the profession," she said.
Joosee noted that additional childcare spaces can help grow the economy.
"It really is one of those careers that seem to be overlooked" but "it is vital to our community," Joosee said.
"The message we want to get out there is there will be opportunities for the next few years. Because of the expansion of national childcare, there's always going to be a job available for the foreseeable future."
Giles said early childhood educators currently make between $18 and $22 an hour, with an additional $2 an hour from a provincial wage grant, she said.
"The province is looking at this and they recognize that they need to raise the pay," she said.